May 6, 2013 - Friday night, April 26, was cool but clear—the perfect night for gazing at the stars and making eCrafts.
GSE professor Yasmin Kafai taught a delighted group of children and adults how to embed fabrics with electronic components during Astronomy Night in Franklin Square. The Square was one of dozens of venues around Philadelphia devoted to stargazing that night, but the only one offering instruction in eCrafting.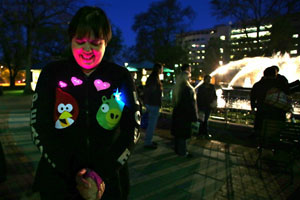 eCrafting integrates electronic components into traditional craftwork, especially using textiles such as fabric, felt, or canvas. Dr. Kafai, a Professor of Teaching, Learning, and Literacy at GSE as well as Professor of Learning Sciences and Information Science at Penn's School of Engineering, uses eCrafting as a tool to encourage young people—especially girls and young women—to learn about computing. The electronic components, including LEDs, sensors, conductive threads, and microprocessors, are programmable so the craft project becomes conductive and responsive to input.
The event was part of the annual celebration of science known as the Philadelphia Science Festival. Part of a national movement to inspire the next generation of scientists and engineers, the Festival offers free lectures, hands-on activities, and special exhibits. More than 55 institutions, led by The Franklin Institute, support the Festival, funded in part by the National Science Foundation.
Dr. Kafai's work has been instrumental in launching youth digital media design activities and communities for learning. Last year, the National Science Foundation awarded her a $500,000 grant for a project that engages students in collaborative projects involving digital media design and computer science. She serves as Principal Investigator for the project, which also involves Penn Design Assistant Professor Orkan Telhan and The Franklin Institute's Director of Educational Technology, Karen Elinich.